FEBRUARY 18 2022
Vince Fraser and Ursula Rucker Honor Black History Month with "Ase: Afro Frequencies"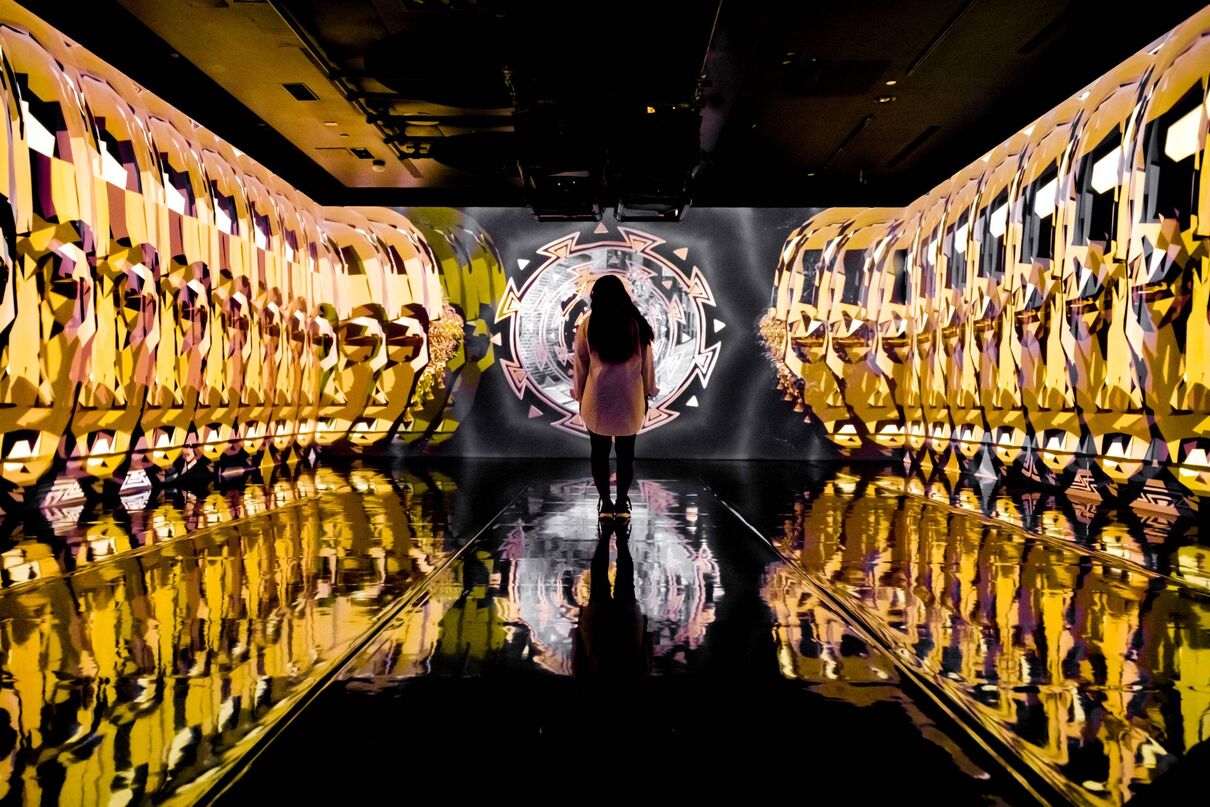 In 2021, ARTECHOUSE debuted the multi-sensory exhibition "Aṣẹ: Afro Frequencies". An ARTECHOUSE production in collaboration with the London-based artist and designer Vince Fraser, it celebrated the historical, social, and cultural elements of the Black experience. Filling the space was surreal iconography sourced from across the world, particularly the African diaspora, that touched upon many realities of the past, present, and future. Special for the presentation, as well, was a custom audio performance by the Philadelphia-based poet Ursula Rucker, created specifically for the show. Today, the immersive presentation is on view at The Bellagio Gallery of Fine Arts in Las Vegas, ahead of traveling to our Washington, DC space this summer and to New York in 2023.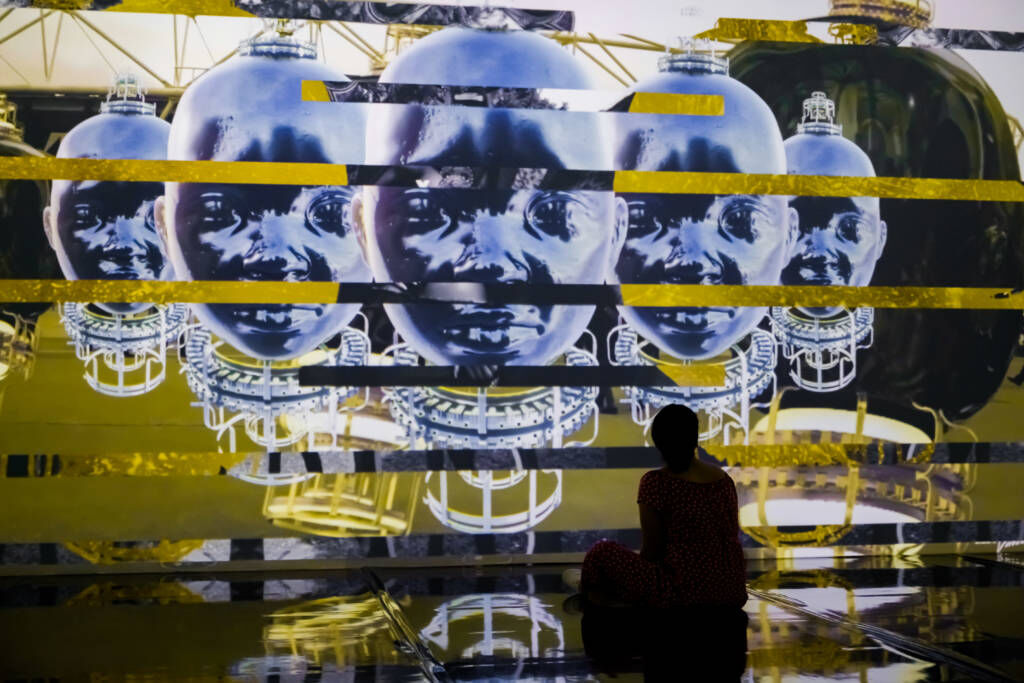 In the making for several years, the exhibition juxtaposed existing works from Fraser with direction, curation and cutting-edge technology from ARTECHOUSE for a collaboration that moved beyond visual storytelling. Coupled with Rucker's important poetry, the presentation acted as an opportunity to connect to a larger audience on global issues surrounding African and African-American history. For Fraser, the idea of aṣẹ embodies his spiritual journey as an artist, with encouragement to stay hopeful regardless of circumstance. This is reflective in his work which presents a dialogue with important messages for the Black community about his lived experiences, and the experiences of others.
Inspired by the idea of "aṣẹ"—a West African concept addressing our power to produce change—the presentation features colors, motifs, silhouettes, and designs influenced by traditional and ceremonial elements from the dynamic continent. Fraser's work features authentic reference points from the history, culture, art, and legends of various African tribes, including ceremonial masks and Nyabinghi drums, as well as social movements, music, and architecture. Rooted in education, Fraser's work also incorporates current day scenes to highlight the ongoing fight for racial justice, such as the Black Lives Matter protests in the United States. Throughout the presentation, seen through a surrealistic lens, guests are encouraged to explore the immersive and interactive aspects for a profound connection, including Fraser's favorite component—an XR experience entitled "Dawnation."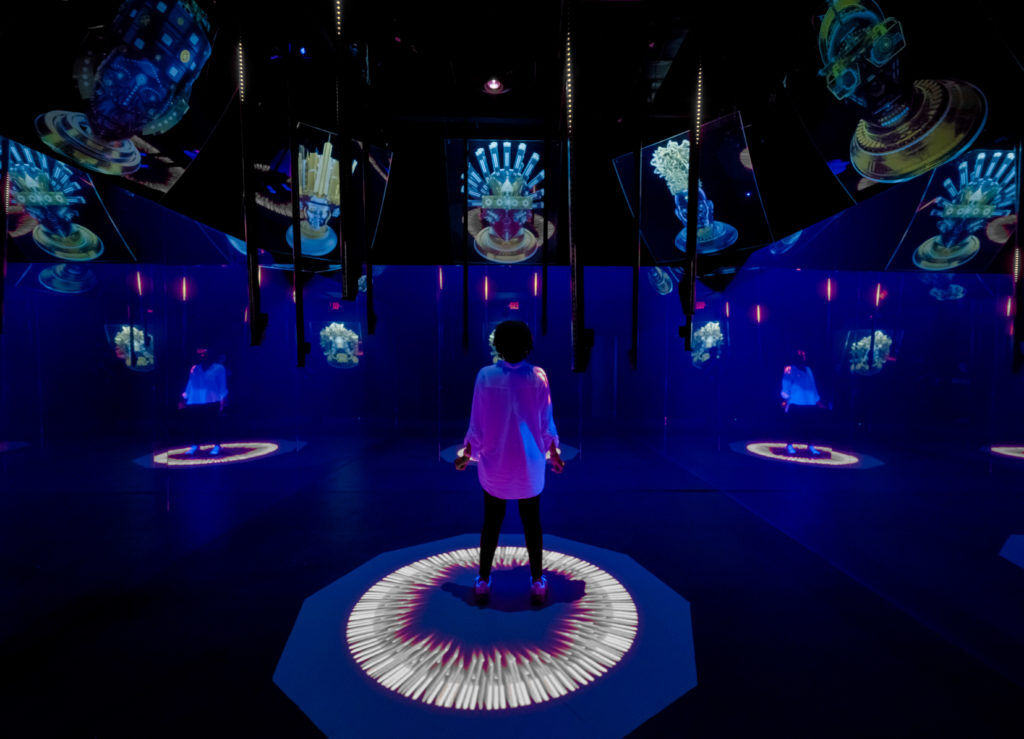 By commemorating the African diaspora's rich history, as well as the contemporary Black experience of life around the world, the exhibition celebrates the significance of Black History Month today. "'Aṣẹ: Afro Frequencies" is told from a Black perspective, which gives the viewer a more authentic and genuine experience," said Fraser. "I feel it's my duty to change the narrative and speak through my art, spreading awareness, amplifying, and empowering Black voices."
"The Black experience is often examined through a non-Black lens," Fraser continued. "I feel it's important to tell the story from my perspective, as a Black creative producing doorways into concepts beyond the realm of the everyday. I hope my work will inspire and empower a whole generation of artists to express themselves through their own unique art form.
ARTECHOUSE spoke with both Fraser and Rucker to learn more about "Aṣẹ: Afro Frequencies" and how they're reflecting on Black History Month, and what they hope for future generations of creators.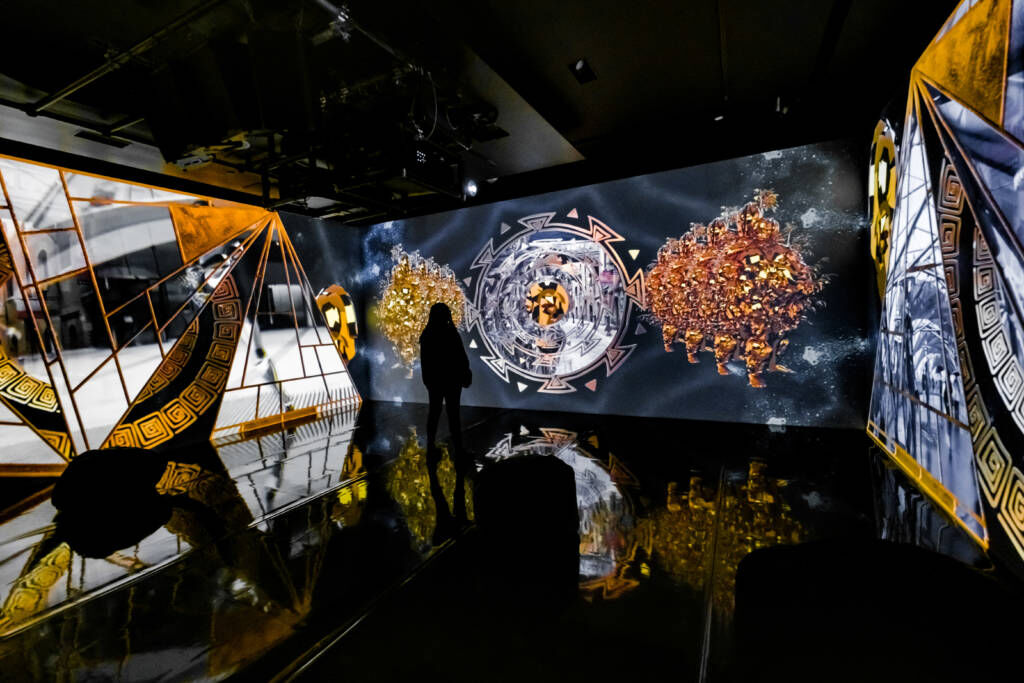 Which scenes are featured in the show that celebrate the Black experience were most important for you to include?
Too many to mention, but the one which springs to mind would of course be the Black Lives Matter events and the death of George Floyd, which happened in the U.S., highlighting years of racial injustices and reminding the Black community that the fight for basic human rights must be ongoing. The fist in the air represents strength, unity, and change, with a strong emphasis on the eradication of police brutality. For me, it's very important to communicate a strong message or meaning in my work, as I feel a lot of these stories from the past are not told in Western society, so it's about educating the audience.
The beauty of being an artist is you get to go to some really cool places, so I always have my iPhone or Sony A series camera on standby, ready to shoot footage of architectural buildings or monuments that I can use later in my work. I also use past historical elements from Africa, most noticeably face masks and sculptures, but try to reinvent them in a modern and contemporary, yet Afro-surreal, way. It invites the viewer to look at them in a whole new context never seen before, connecting the past with the present.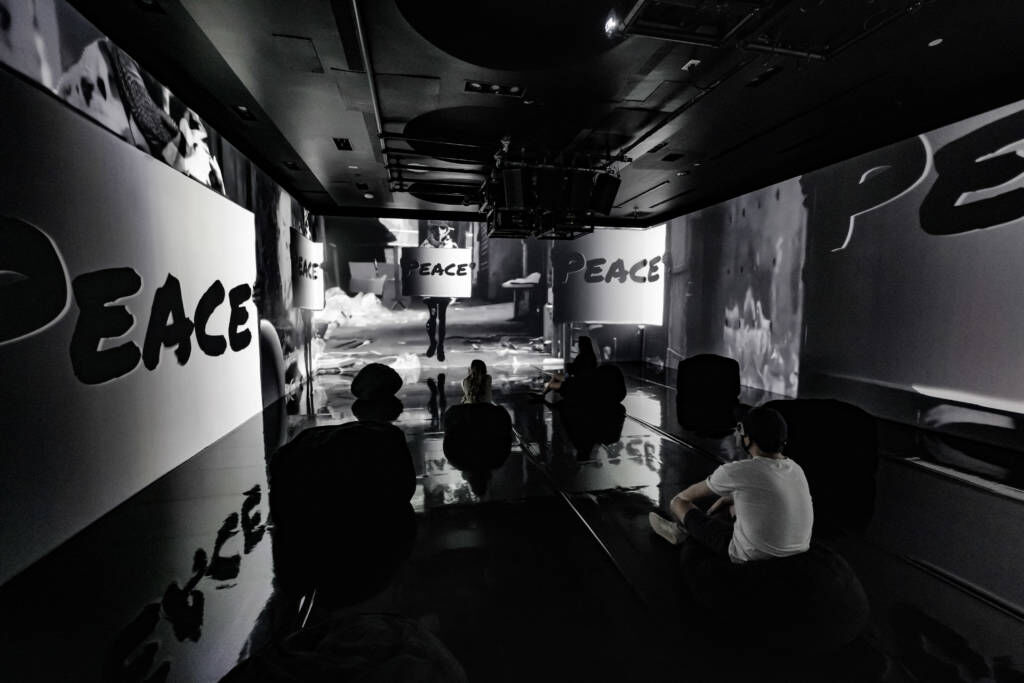 Beyond what the viewer may see on screen, can you share the cultural significance of masks and their visual signifiers?
I have a fascination with face masks from Africa because there's so much history behind each one. What a lot of people don't even realize is that Africa is a vast continent with many cultures. Each tribe has a different mask, which has different meanings, and some are primarily associated with ceremonies that have religious and social significance or are concerned with funerary customs, fertility rites, or the curing of sickness. Masks are also used for warfare and as protective devices in particular activities or during inclement weather. African masks often represent a spirit, and it is strongly believed that the spirit of the ancestors possesses the wearer. Ritual ceremonies generally depict deities, spirits of ancestors, mythological beings, good or evil, the dead, animal spirits, and other beings believed to have power over humanity.
What about the music in the presentation?
Music is something which is very dear to my heart, so it's very evident in my work. It doesn't relate to one specific genre, but more of a vibe felt spiritually in the soul. A lot of the music is heavily influenced by electronic music, though, with ancestral drums being the main component. Medical research studies indicate that drumming boosts the immune system and has many healing effects. Drumming and Chanting have been used for thousands of years to create and maintain physical, mental, and spiritual health. The Nyabinghi drums were the weapon of choice for this exhibit, which originates from my Jamaican ancestry. They're used as a gathering by the Rastas to congregate and engage in praise and worship.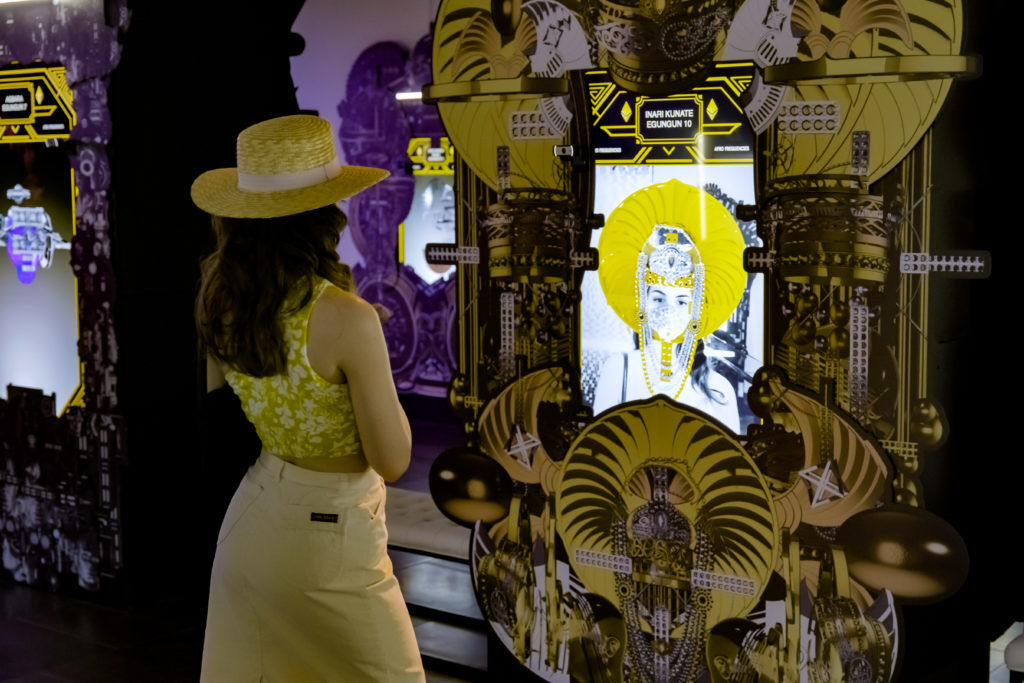 What is one not-miss detail you want first-time visitors to see?
ARTECHOUSE's artistic decision to add an XR detail to "Dawnation" is a not-miss detail to see, as it takes the viewer into a portal where you actually become part of the exhibition interacting with it through XR.
But the message is the most important thing. I want everyone to come, experience it for themselves, and walk away feeling empowered and enlightened, knowing that they can achieve great things spiritually and mentally regardless of the obstacles put in front of them.
Last August, you released the "We Rise Above" XR project with ARTECHOUSE, featuring visuals that appear over Black Lives Matter plazas across the U.S. Can you tell us about this?
This was my first initial collaborative project with ARTECHOUSE, so it was very important for me to get it right from the get-go. The main focus was to get the message across a wider demographic through the power of art and technology, so the idea of having this interactive element on an app and visible across 34 Black Lives Matter Plaza locations was great! The beauty of XR and AR is we can now merge digital content with the physical world to create and deliver next-generation experiences.
Artists like myself can build deeper emotional connections and connect in a more meaningful way with the viewer, as was in this project. I hope the viewer will become more aware of what is happening in the world today—with regard to social justice issues like racial discrimination, inequality, under-representation and police brutality experienced by people of color—and contribute to helping build a more positive future where everyone is equal, regardless of race and color. We need to continue to spread the message for change to occur in society.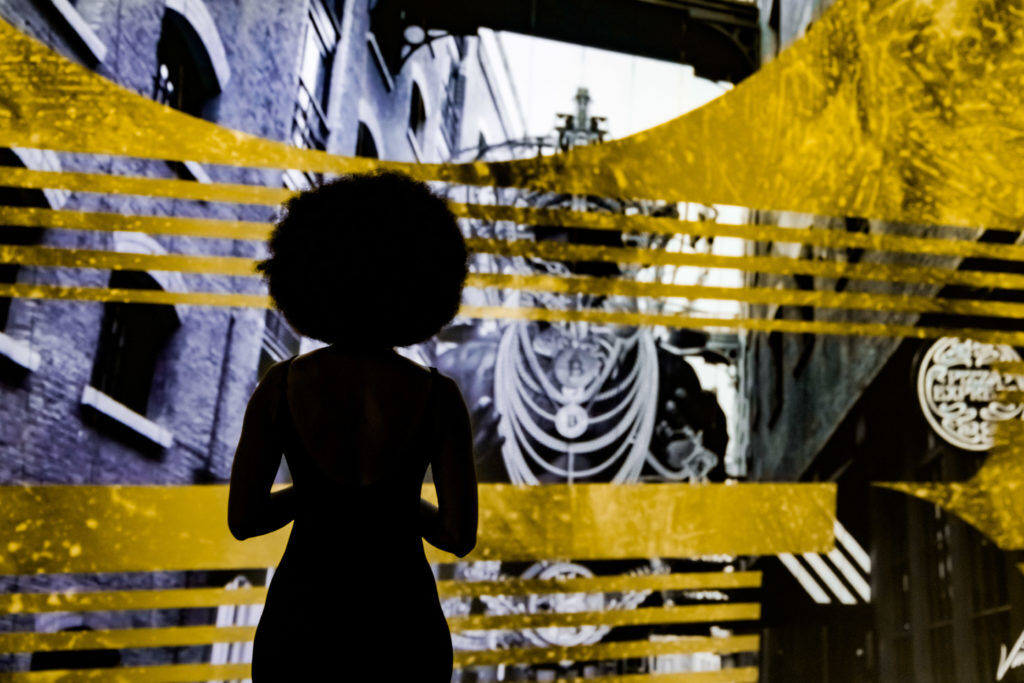 You've mentioned your mission is to "inspire, educate, and empower positive images of the African diaspora." During Black History Month and beyond, how can others lead by your example?
There is a lack of diversity and representation in the creative industry with regard to senior influential black role models. I never had any role models growing up, so I hope I can inspire younger creatives of color. I feel the younger generation is much more informative than the previous generations, which brings hope. Just looking on social platforms recently, I now
see hundreds if not thousands of young black creatives worldwide organizing online events, projects, exhibitions, and building communities through the power of education. Unity is key, and through strong communities, change will eventually happen.
Ursula, your words accompanied Vince Fraser's art in "Ase: Afro Frequencies." Was this a new piece specifically created for the show?
Yes, everything was tailored and written specifically for the exhibit. It was the result of lots of research, as I wanted to do my best job poetically, historically, and in my voice. I wanted to make sure that I had everything correct. I'm well-studied—having a minor in African American studies and a degree in journalism from Temple University, and as a poet—but I wanted to really get it right. This was my first time doing anything like that. The content had to be right.
Primarily, it was a nice companion to Vince's beautiful work. It was a co-soldier, a comrade. It was very important to me that it was commensurate to Vince's pieces and the intention behind those. It was never racking in an exciting and fun way. It was a challenge to do this, but I live this. I am this. I'm super Black all day, every day. I talk about this all the time. I'm all for Black stories on this planet, Black experience. But it's true that I did a lot of research. I took what I knew and tightened it up and made sure everything was copacetic.
This is ground-breaking, and we love that, but it needs to be the new normal. Moving forward, it can't just be an exhibit, this is a movement.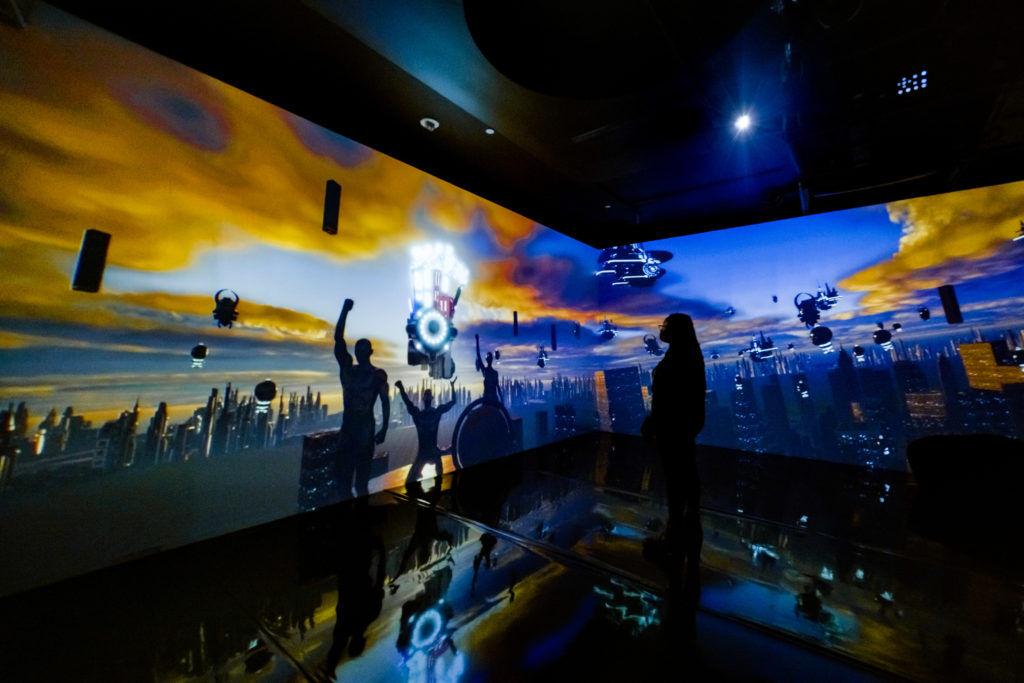 How are you embracing your own Afro frequencies?
I write what I call haiku conjures, talking to my ancestors and getting their energies. That's very important to me, and that includes all of my frequencies. But when talking about my "Afro frequencies," my indigenous African or Afro ancestors, I do lots of work. Frequently, every day. Whether it's from prayer, writing, or sage burning.
You recently hosted an intensive workshop named "Critical Renewing of Thee" for memoir, poetry, and performance work. What were some highlights we can share with our readers?They should watch the Youtube videos of the 25 poets that participated! This was the first time I've ever initiated it myself. I went to my sisters who have a self-identifying Black and Latinx women-run media group here in Philly called SIFTMedia, and asked how we could collaborate. And boom! We did it, we worked together. It was a true example of the success of mutually aided, collaborative creativity, just like "Aṣẹ: Afro Frequencies." It showed what we can do when working together and when we respect each other. We all wrote haikus, dug in, told our stories, and held each other's stories dear. We did the work and have been communicating ever since. It's a continued relationship with all of us. And they made sure that I got paid, because wow, isn't that a part of it? We forget as artists and activists that it's so important that we are compensated for our work, which is always so hard to get. I'm honored.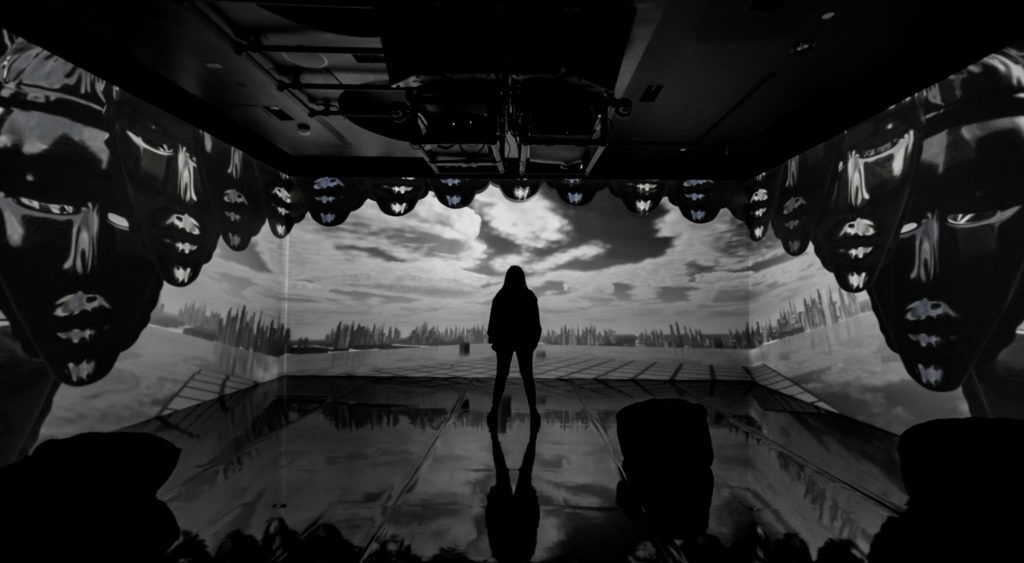 Black History Month is a time to observe, honor, and celebrate. How are you reflecting or celebrating this month?
I'm taking care of my Black family and making sure my Black sons are taken care of all day every day, whatever month it is. I'm a Black person, and a woman, every single day. So every day is Black History Month for me. And next month, Women's History Month, is my favorite. We need Black History year in America. Everyone here is late.
What do you hope for the future generation of creators—and communicators?
I hope everything is easier. We need easily accessible facilitation of what we're creating, making, giving, and sharing with everyone else. Everyone benefits. And if we're activist artists, or what I call "artivists," then it's bumped up. We need facilitation and compensation for what we all do. We need programs and projects in place that we don't have to jump through hoops of fire to find.