APRIL 2 2020
Q&A: Refik Anadol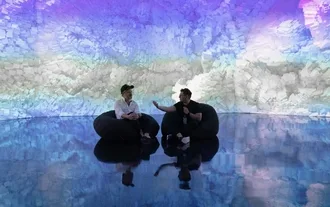 "Arts has this quality of imagination. Artists are always inspired by the technology around them, they always try to use them in the maximum capacity of their imagination," notes artist, Refik Anadol, the visionary behind Infinite Space and Machine Hallucinations.
The 34-year-old Turkish born, LA-based, artist, professor, director, and visionary, has an in-depth discussion with ARTECHOUSE's director of visitor experiences, Lena Galperina.
Anadol discusses how he became an artist, and specifically, one who works with technology to create his immersive, genre-bending pieces.
Anadol is the only artist to be showcased at all three ARTECHOUSE locations. His retrospective Infinite Space, which looked back at his work from 2015 to present day, has been showcased at both the DC and Miami outposts. While his new show, Machine Hallucinations, was debuted with the opening of our New York outpost in September 2019.
Learn all about his inspiration behind his pieces, how technology and art come together, and how he thinks the world will move forward amid a life-changing pandemic.