NOVEMBER 7 2023
ARTECHOUSE Announces "World of AI·magination" — A Journey into the Boundless Possibilities of Human Creativity and Artificial Imagination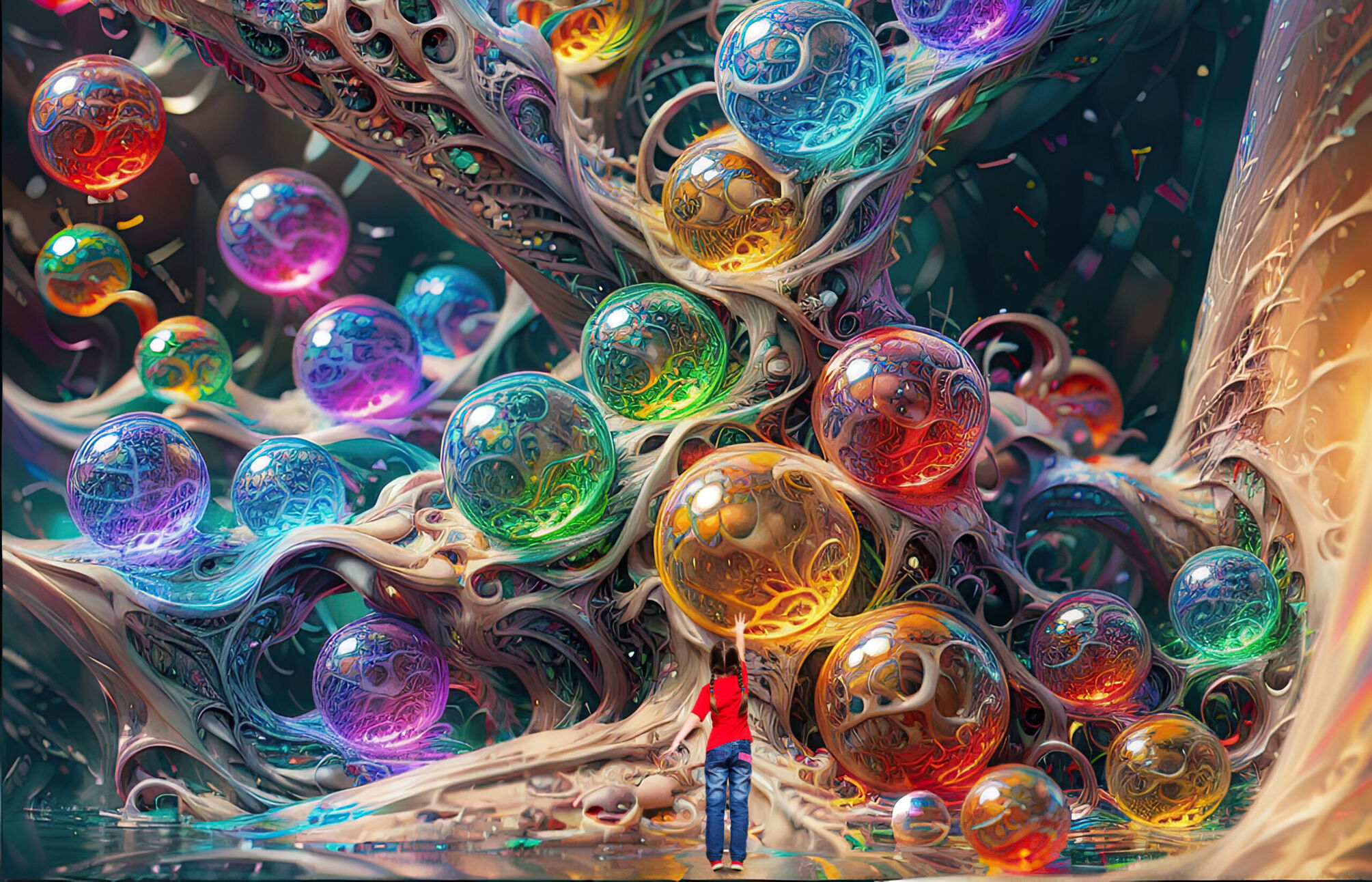 Download the Press Release — World of AI·magination
Utilizing existing and custom generative AI systems, including Stable Diffusion and GANs, ARTECHOUSE Studio developed all original visual materials for this large-sale experiential installation, a poetic homage to the ageless power of imagination.

New York, NY – October 25, 2023 – ARTECHOUSE, a pioneer in innovative, experiential art and the leading contemporary art space dedicated exclusively to technology-based art,  is proud to announce its latest digital art exhibition, World of AI·magination, an exploration of the intersection between human creativity and artificial imagination. Set to premiere on December 1, 2023, at ARTECHOUSE NYC in Chelsea Market, this captivating and unprecedented exhibition redefines the boundaries of art, technology, and creativity.
World of AI·magination takes visitors on a poetic and mesmerizing audio-visual journey that celebrates the timeless power of imagination. It underscores the idea that, regardless of age or position, there exists within each of us an enduring sense of wonder and a thirst for uncharted possibilities. This exhibition masterfully combines generative algorithms with human creativity to create a unique visual experience, blurring the lines between human creation and machine computation.
"At ARTECHOUSE, we've always strived to bring the future of art into the present," says Sandro Kereselidze, Founder & Chief Creative Officer of ARTECHOUSE. "As a leading innovative art space at the intersection of art and technology, we enthusiastically embrace the opportunity to experiment with the latest accessible tools that emerge in our field. With 'World of AI·magination,' we continue our collaboration between human creativity and machine learning tools to explore new expressions in today's dynamic art landscape. Inviting everyone to experience a glimpse of boundless possibilities of the innovative age of artificial imagination."
In the context of today's creative industry, World of AI·magination is a timely exploration of the profound impact of AI and machine learning on the artistic process. This collaboration between man and machine challenges conventional notions and invites us to explore and engage with AI as a creative collaborator rather than a mere tool or potential threat. This exhibition stands as a testament to the constructive potential in the nexus of art and technology, enriching our cultural tapestry in the process.
The exhibit is a testament to the artistic potential of advanced AI techniques, including Machine Learning and GANs, setting the stage for future advancements in the ever-evolving landscape of computer graphics and generative AI. The centerpiece of the exhibition is a 20-minute cinematic journey, aptly named the "World of AI·magination" where guests are invited to embark on an extraordinary journey through six captivating scenes that blend the familiar with the novel. From the boundless and ethereal Submerge to the surreal GAN Mecca, inspired by M.C. Escher and Zaha Hadid; the Library of Magical Portals where colossal books beckon with dreams and algorithms; the ever-morphing Symphony of Illusions; the enigmatic Infinite Maze; and finally culminating in The Dreamer's Emporium, leaving visitors in awe of the creative possibilities that can arise from the evolving collaboration between human ingenuity and AI.  
"The creation process began with a human-led concept design that evolved into a captivating visual narrative across six scenes. Integrating NVIDIA hardware and cutting-edge generative AI tools, extensive R&D was undertaken to address the complexities of machine learning models," says Riki Kim, Executive Creative Director at ARTECHOUSE about the work that went into creating the title piece. "Our visual lead dived into stable diffusion for 3D model animation, while the software team optimized various GAN models for animated textures, resulting in over a million unique datasets. Despite the immersive gallery's scale, our team innovated to create controlled, high-resolution visuals, harmoniously blending traditional 3D animation with generative AI. The entire endeavor relied on accelerated computing and necessitated a high degree of software and system configuration customization."
The title piece is accompanied by five installations that allow visitors to manipulate and interact with numerous GAN and Machine Learning-generated pieces. Installations include: Infinite Looking Glass, a mesmerizing journey into the unexpected; Diffusive Gaze, which captures images of visitors and processes them in real-time in the style of the main gallery content; GAN Gallery, an interactive installation that takes visitors behind the curtain of generative art; Library of Magical Portals, which transports visitors with the nostalgia of childhood storybook; and Infinite Maze, an interactive engagement that challenges our spatial perceptions, where you dictate the complexity of your own experience.
In addition to AI, ARTECHOUSE Studio worked with collaborators, including software development integration generative AI tools by Intent Dev and Idzard Kwadijk, visual leadership by Scott Pagano, an original music composition by Mehmet Unal and Sound design and mixing by Tilde Sound Art. 
The exhibition will premiere at ARTECHOUSE NYC, located in a 100-year-old boiler room beneath the iconic Chelsea Market at 439 W 15th Street in New York City.  The intimate digital art space utilizes the largest seamless megapixel count projections of any cultural institution and integrates Hyperreal Sound technology, offering visitors and artists alike the most technologically advanced and unique art platform in the world. 
About ARTECHOUSE: 
An industry leader in the field of digital and experiential art, ARTECHOUSE expands the possibilities of art and how we experience it through cutting-edge technology-driven exhibitions and experiences. ARTECHOUSE connects progressive ideas, artists, and audiences to stimulate innovation and creativity at the intersection of art, science, and technology. What started as the nation's first digital art space is now a home, online and off, for technology-driven art innovation, with a mission to empower and fund the creation of new, experiential, and exploratory art forms that make an impact.
ARTECHOUSE Studio is an interdisciplinary team of designers, architects, producers, and storytellers working together to turn ideas and concepts into cutting-edge, technology-driven experiences.
artechouse.com \\ @artechouse \\ #artechouse 
# # #
LOCATION:
ARTECHOUSE, NYC's original home for digital art, is located in the former boiler room of Chelsea Market at 439 W 15th Street in New York.
ADMISSION & HOURS:
General Hours: 
Monday – Thursday, 11AM – 9PM

Sessions are every 30 minutes. The last session begins at 8PM

Friday – Sunday, 10AM – 10 PM

 

Sessions are every 30 minutes. The last session begins at 9PM
XR Bar Hours: Monday – Thursday: 2PM – 8:30PM; Saturday – Sunday: 12:30PM – 9:30PM
TICKETS:  Visitors who book online save on visits to ARTECHOUSE NYC
     

Anytime Tickets: $30-$36 (Select a day, visit anytime)

     

General Admission

: $25-$31

     

Children (4-15): $17-$23

     

Children (under 4): Free

     

Students & Seniors (65+): $20-$26

     

Military & First Responders: $20-$26

     

Weekday Family Pack: $75-$96 (minimum 2 max of 4 guests)
●       Live in New York or New Jersey? Save $5 off Admission Tickets Monday-Friday (Proof of Residency Required)