AUGUST 6 2021
Music in Experiential Art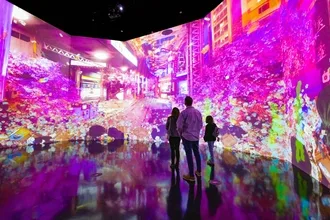 Composers Mario Hammer, David Levy, and Michael Stearns joined us for a fascinating discussion during ARTECHOUR.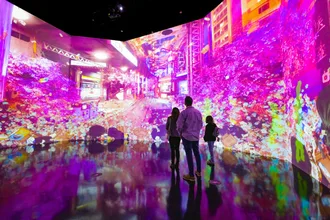 If you've ever ever visited one of our exhibitions, you know that sound is essential to bringing our visuals to life.
That's why we were delighted to feature three composers from our current shows—Mario Hammer of DC's Renewal 2121 and David Levy and Michael Stearns of NYC's Geometric Properties—in the latest edition of ARTECHOUR to explore how music, and our composers, impact each installation.
If you missed the discussion, you can watch it in full here.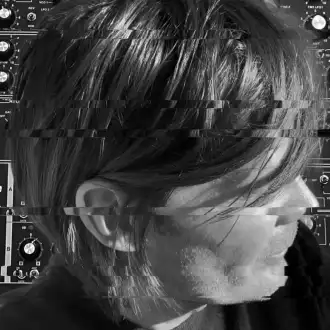 Mario Hammer and The Lonely Robot created the score for DC's Renewal 2121. Their collaboration dates back to a chance meeting in a music store and later on becoming neighbors in Cologne, Germany. From there, they began making music together. The Lonely Robot has described their back-and-forth as ping-pong, where their similar styles complement each other but with new twists and ideas each time.

Mario came up in the techno/house scene but later switched to an ambient style of music. "You can put so many emotions into ambient music," he told us in a previous interview. "You can catch the listeners from one second in the beginning and take them on a journey. This is why I really like film music, ambient, electronica … so many different genres today. It's a way to transport the listeners. And that's why I was so happy to work on Renewal 2121 and set the music to moving pictures. It's a complete sound experience. You must feel it; it's a totally new feeling."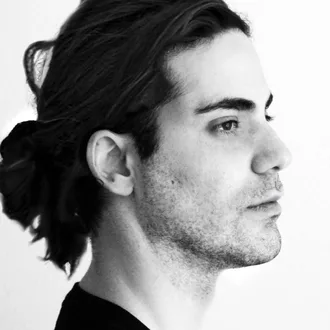 David Levy, who co-composed the soundtrack for NYC's Geometric Properties, never pursued any kind of formal education in music. He has a degree in psychology, but he became an audio engineer in his twenties and wrote music on the side for fun. Later, he ended up doing it full-time, and this led to his collaboration with Julius Horsthuis.
"I think it was just the magnitude of what he was doing, and the visuals looked stunning. That drew me in automatically," he said in an interview earlier this year.
"The fractals almost dictate what needs to be heard. They have some emotional content to them, in my opinion."
In terms of developing the Geometric Properties score, it took a bit of tweaking to get things exactly right.
"I felt something initially, but it made the piece sound a little too sad and too heavy. We revisited it, and we hit the spot where it's not too sad, not too happy, and it's walking the line in between everything," Levy told us.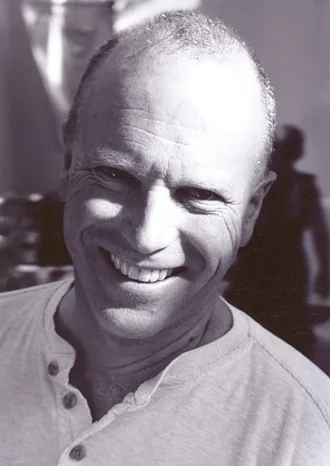 Michael Stearns—who you may already know for his compositions for Chronos, Baraka, and Samsara, among a host of other impressive things—also co-composed the Geometric Properties soundtrack; his pieces were created for planetarium shows, which fit perfectly in an immersive environment.
Stearns has been fascinated by fractal math and fractal art for years, and (pre-COVID) a fractal artist had a monthly show at the planetarium in Albuquerque that featured Stearns' music.
He grew up as a surf guitarist exploring ways to play around with an amplifier, but his love for movies (inspired by his parents' interest in film) drew him toward soundtracking films and other visual experiences—including art installations.
"Digital tools open up whole vistas which we hadn't been able to explore before," he said in an earlier interview of the vast technologies available to us now.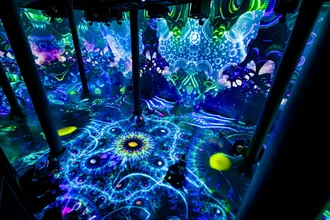 Explore all of this and more in our ARTECHOUR talk, and stay tuned for upcoming installments of this Instagram Live series via our social media channels and our newsletter.
Renewal 2121 is on now in DC, and Geometric Properties is on now in NYC; come visit before both wrap.
And hear more from the composers:
Discover Mario Hammer's music from the ARTECHOUSE exhibition, "Enveloppé," available through September 2021, and music from David Levy's exhibit here.