MARCH 31 2022
Celebrating Tradition, Nature, and Technology with an Annual Cherry Blossom Exhibition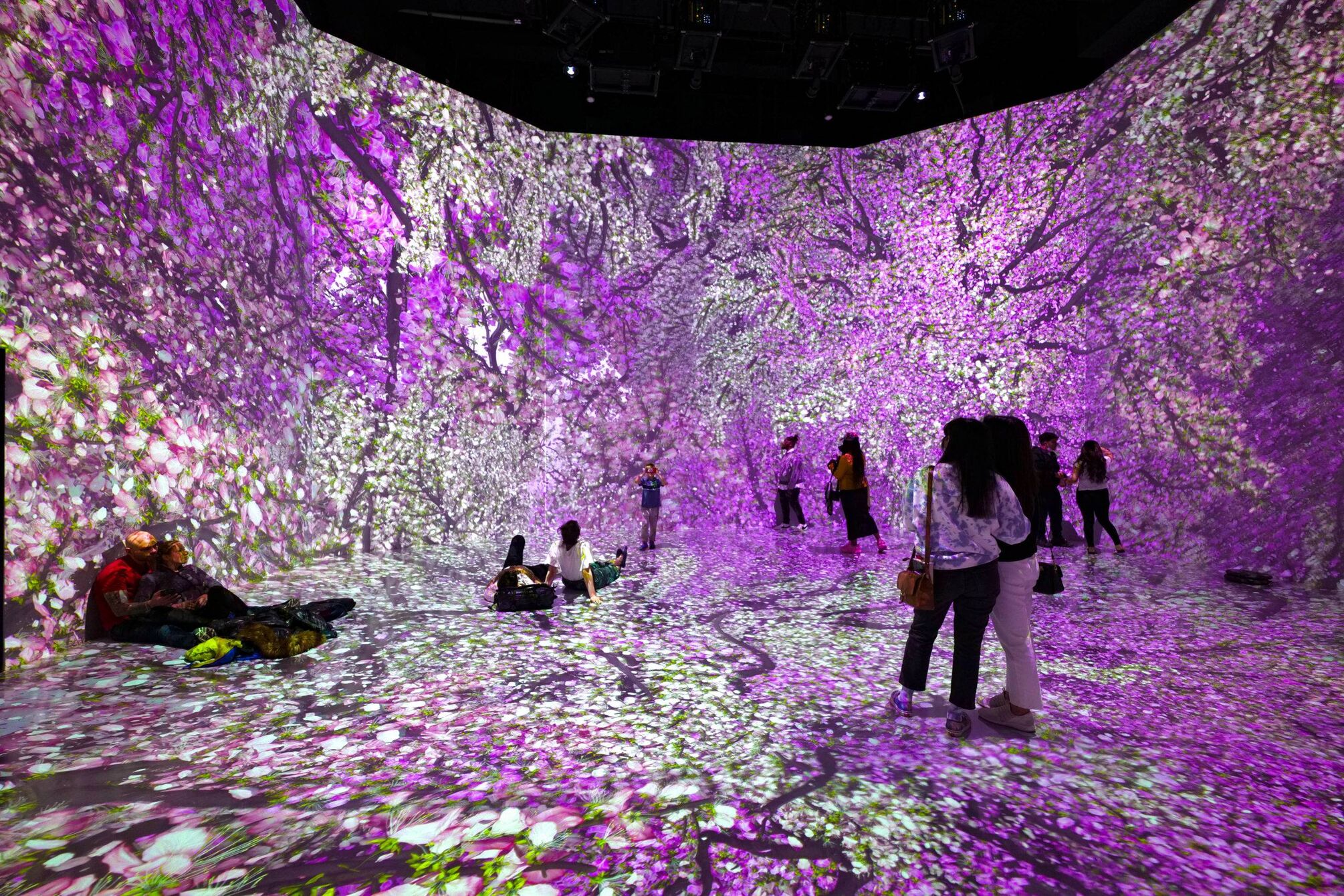 110 years ago, the United States received a flowering gift from Japan that represented friendship. Delivered to Washington, DC were 2,000 Sakura trees — historically significant plants to Japanese culture, whose blooms are honored each spring through momentous celebrations of the National Cherry Blossom festival.
Each year, this history is also represented in a new context through original immersive exhibitions at ARTECHOUSE DC that draw from both nature and human interaction. To date, four presentations have touched upon this unforgettable temporary beauty while putting it in the context of today's events: "Sakura Yume" in 2018; "In Peak Bloom" in 2019; "Hanami: Beyond the Blooms" in 2020; and "Renewal 2121" in 2021.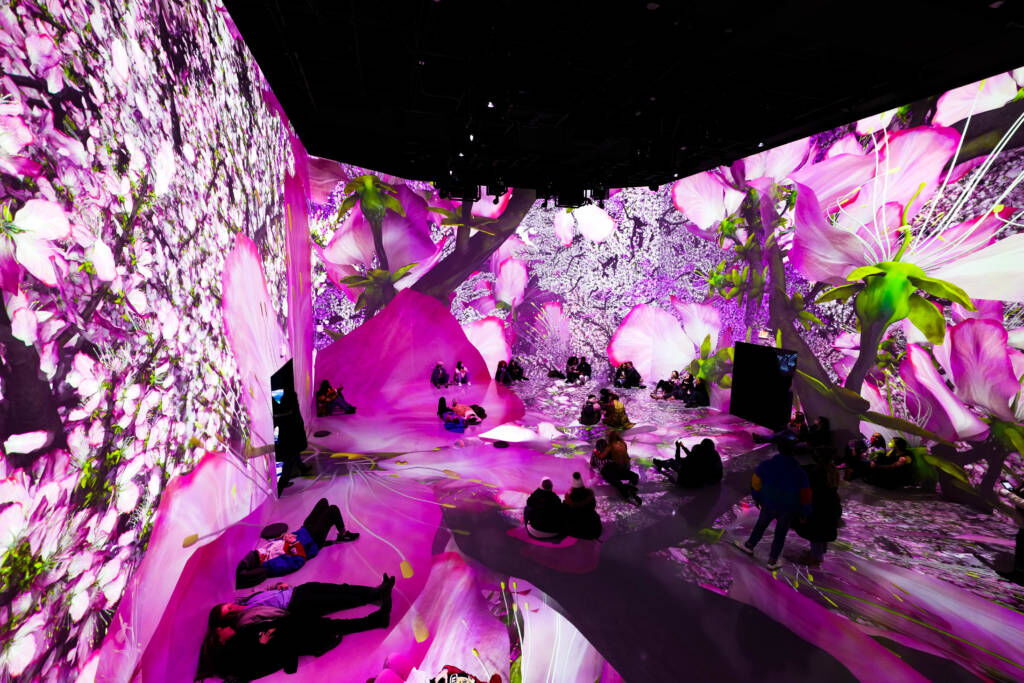 On March 11, 2022 ARTECHOUSE launched its fifth iteration of the annual cherry blossom exhibition, entitled "PIXELBLOOM." On view through May 30, the exhibit takes visitors on a metaverse like journey with a 22-minute audiovisual presentation, bringing them into a breathtaking virtual landscape that is rich in cherry blossom color, texture and imagination.
ARTECHOUSE's Co-Founder, Sandro Kereselidze, and its Executive Creative Director, Riki Kim, share what significance this annual exhibition holds, how it works with the community to honor tradition, and why the relationship art and technology have with nature is imperative for the future.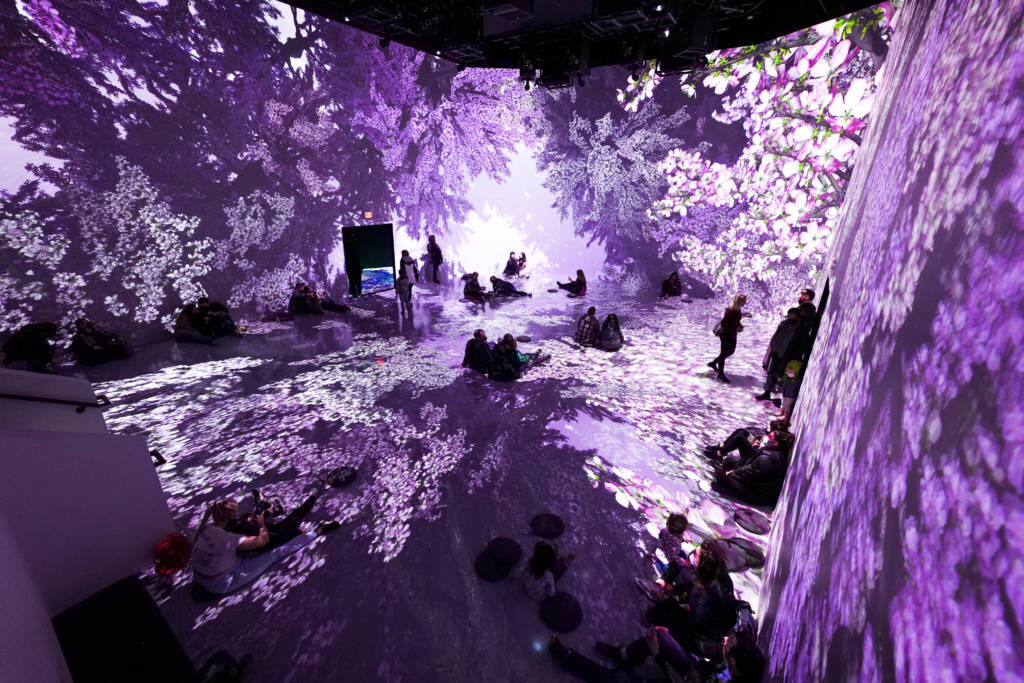 Why a Cherry Blossom exhibition?
The cherry blossom season is an immensely popular annual tradition both locals and visitors to DC seek out and celebrate. Their beauty and ephemeral nature create a level of excitement that can be shared and celebrated by anyone. The idea of something impermanent or short-lived is very apparent in our work at ARTECHOUSE, not only in celebrating this time-honored tradition in our nation's capital but also because of the transformative nature of our exhibits, which offer something that is a once in a lifetime experience if just for a short period of time.
Can you tell us about collaborating with the National Cherry Blossom Festival?
It became an annual tradition that ARTECHOUSE creates an original exhibit inspired by the season during the National Cherry Blossom Festival. A tradition that we cherish and are equally delighted to continue to strengthen this partnership every year. Every spring we look forward to sharing the cutting-edge, technology-driven exhibitions we design as a way to enhance the experience of the cherry blossoms with those from and visiting Washington, DC offering peek viewing at any time during the spring.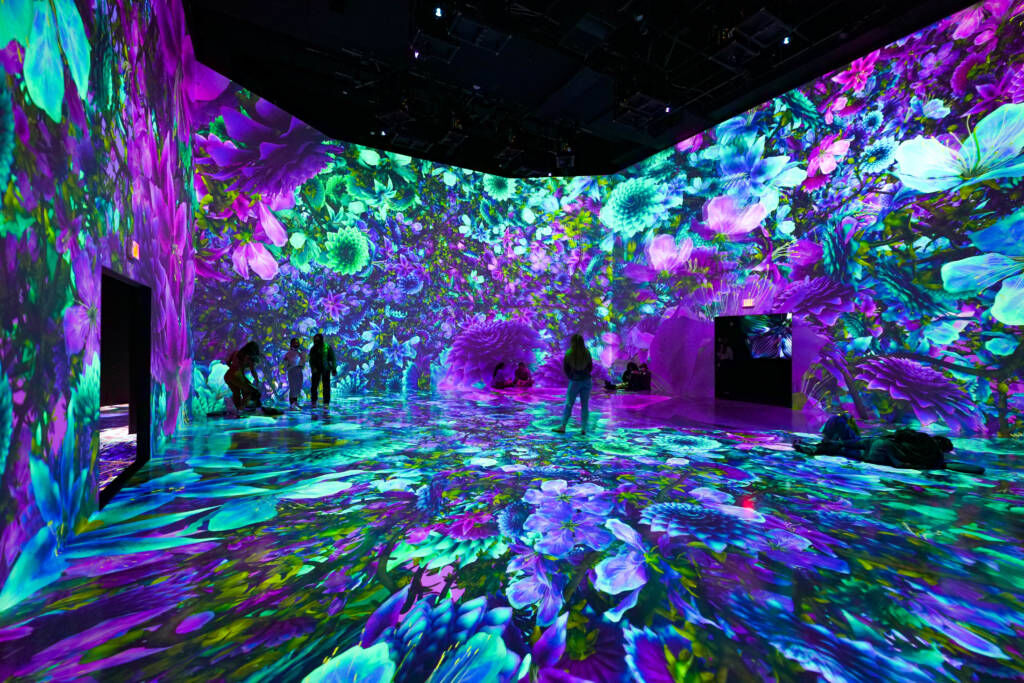 Each year the exhibits evolve and touch on different angles. "Renewal 2121," kept the planet at the forefront, shining a light on conservation and climate change. What relationship does ARTECHOUSE feel it has with nature and sustainability?
An ARTECHOUSE Original, the annual cherry blossom-centered exhibits all have one thing in common: that the hero of their story is this small, delicate flower. The natural beauty of the cherry blossoms is a fantastic juxtaposition for ARTECHOUSE, working with technology, for many reasons, not least of which is the resulting exchange between natural beauty and digital art. Even beyond that, however, as we work with all the potential of future technology, we have to constantly consider what the future will look like.
Having an annual program dedicated to a natural subject always loops back to the questions surrounding the potential for the planet. Last year, ARTECHOUSE DC presented "Renewal 2121," an exhibition that gave visitors a chance to look at a world 100 years in the future. Throughout the exhibit, visitors experienced a glimpse of what our future could look like if we continue on the path we are currently taking. That "window into the future" element is a powerful advocate for the conversation that climate concern causes.
This year we brought "Renewal 2121" to ARTECHOUSE Miami because we felt it was imperative to spotlight the collective environmental responsibility needed to ensure that our natural surroundings thrive. We want to convey a message of hope with this exhibit and foster conversations that inspire visitors to take action and harness their energy towards finding solutions that will ensure a brighter future for all.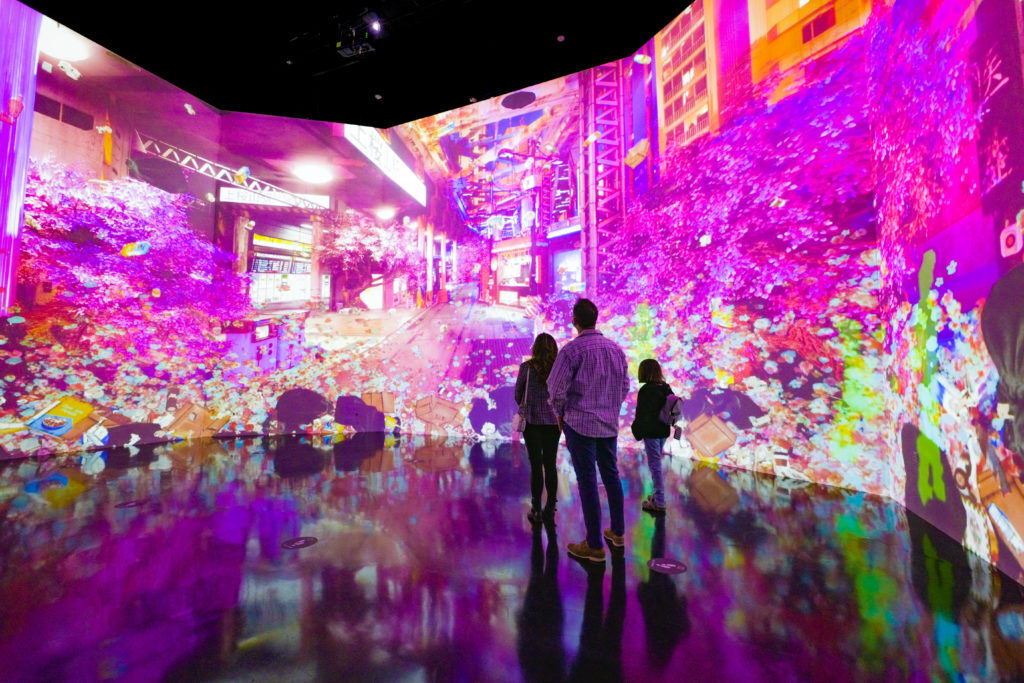 How have the exhibitions evolved over the past four iterations?
ARTECHOUSE is first and foremost a team of artists, designers, technologists and creatives, and that is what allows us to truly partner and support the creation of the artists we work with. However, along with supporting and presenting the works of individual artists, over time our team has also started to create original bespoke exhibitions. This opened a world of collaborations and exciting experimentations.
In our first year, "Sakura Yume: Cherry Blossom Dream," featured multiple artists to honor the natural and cultural phenomenon of the cherry blossoms. This immersive, interactive exhibition celebrated the ephemeral beauty of the season by inviting visitors into a multisensory springtime experience. Visitors were invited to interact with larger-than-life cherry blossoms, koi fish, and even an immersive dining experience. The result was an atmosphere that was both calming and playful. This was also the first exhibition to feature the largest interactive projection in the world.
Year two, for "In Peak Bloom," we continued the tradition with a series of immersive and interactive installations all created by women artists & female-led art collectives. Through collaboration with these artists, this exhibition took the cherry blossom's symbolism to life in new ways, updating this time-honored concepts for the 21st century while simultaneously paying homage to traditional themes, such as the transient nature of life (hakanai), and artistic genres like Ukiyo-e. The installations gave visitors a chance to interact with nature through biometric sensors that made a tree burst into bloom — or even live plants that sang with your every touch.
In our third year, "Hanami: Beyond the Blooms" we worked for the first time with a non-technology and projection versed artist, but rather an illustration artist, taking two-dimensional illustrations of Yuko Shimizu to a three-dimensional immersive world. Albeit affected by Covid-19 closures, ARTECHOUSE DC reopened with "Hanami: Beyond the Blooms" in the summer of 2020 for an extended run into the fall of that same year. By bringing the award-winning Japanese artist Yuko Shimizu's hand-made ink illustrations to life with cutting-edge interactivity, "Hanami" transported visitors into a new tale of spring — one where they could contemplate both the excitement and chaos of the season as they engaged with centuries-old traditions and explored the interconnectedness of the natural world.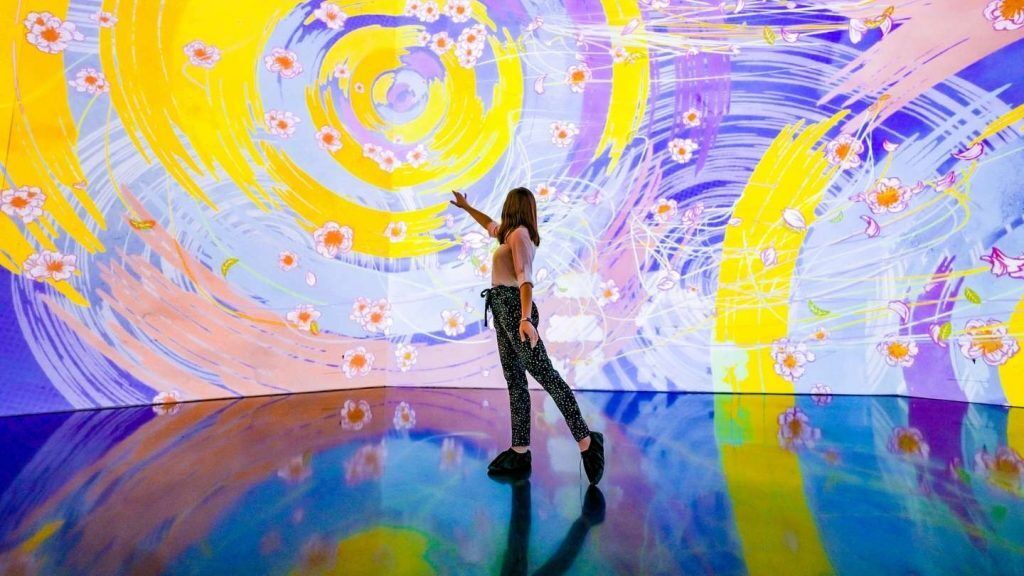 What can the public expect from "PIXELBLOOM"?
This year for our fifth anniversary of ARTECHOUSE, and the fifth cherry blossom exhibition, we are inviting visitors to jump into the metaverse with "PIXELBLOOM." This exhibit pushes the boundaries of immersive digital art, inviting visitors to glide through a virtual world of cherry blossoms, making a digital creation part of their physical reality. "PIXELBLOOM" aims to breathe a new life into cherry blossoms through an explosion of vibrant colors and textures, intensifying the cherry blossoms allure in a way that is only possible in a virtual environment — and does so with some of the most intense pixel density projection on the planet! We are letting our pixels bloom, pushing the possibilities of the latest technology and it is all inspired by nature.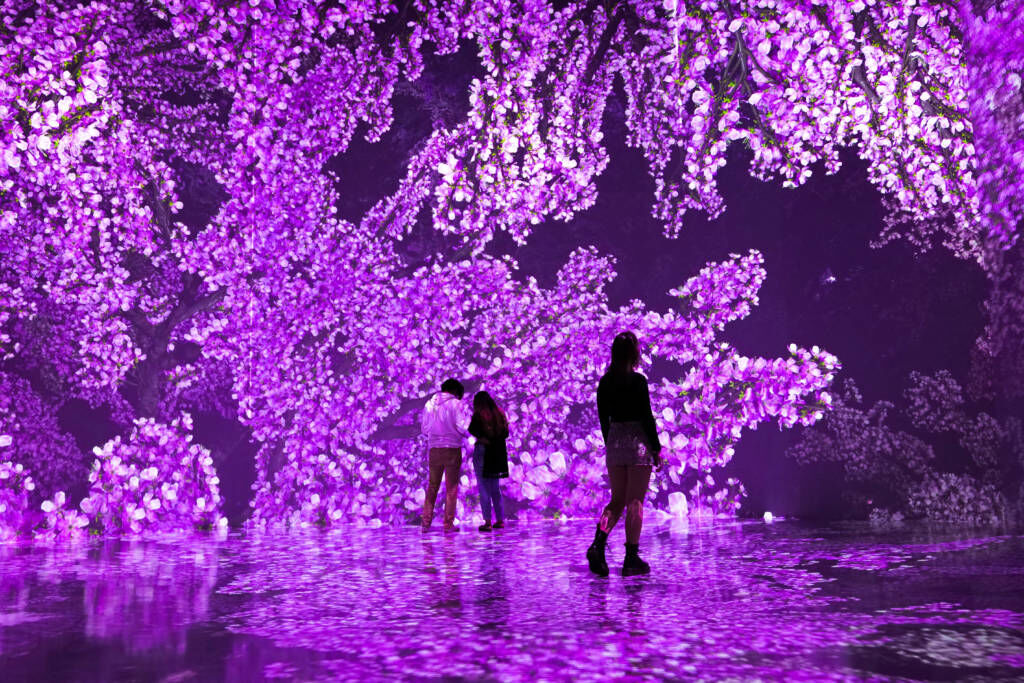 Cherry blossom exhibits feature collaborations between ARTECHOUSE and different artists. What is typically the starting point for imagining an exhibition?
Rather than focus on how we create new works with collaborators, the starting point for all ARTECHOUSE productions begins with asking what topics are most relevant: "What is going on in the world right now? What is going to resonate with audiences?"
"Renewal 2121" was created in part because of the news cycles about the pandemic's relationship with our pollution output, paired with the bounding uncertainty of both the immediate and farther off futures. So, we took the opportunity for "Renewal 2121" to create a window that looks into the future as opposed to in the past.
"PIXELBLOOM" arose in part because the metaverse was the word on the tip of many tongues, but very few people seemed to understand what it actually is. Thus, we took the conversation surrounding the metaverse and asked what our future interaction with the virtual world might look like. We create our exhibits to engage with the current zeitgeist and actively push emerging conversations forward — the result is exhibitions that not only resonate with a larger audience, but invite the public to imagine and experience the future.
How do you ensure the cherry blossom exhibitions at ARTECHOUSE embody the emotion and importance of this season?
With every cherry blossom iteration, we want to celebrate the enchantment of spring, and so we design concepts that bend towards being bright and vibrant, looking to carry a positive and optimistic tone.
We look to the time-tested concept of spring as a rebirth, knowing that the excitement and anticipation of an exhibit reflect the mood of the wider population at the same time. With cherry blossoms specifically, we can also glean a bit from Japanese culture, where spring is a time for new, exciting changes. Vibrant in color and tones, our cherry blossom exhibitions are the reflection of the eagerness we feel from the promise of a new start.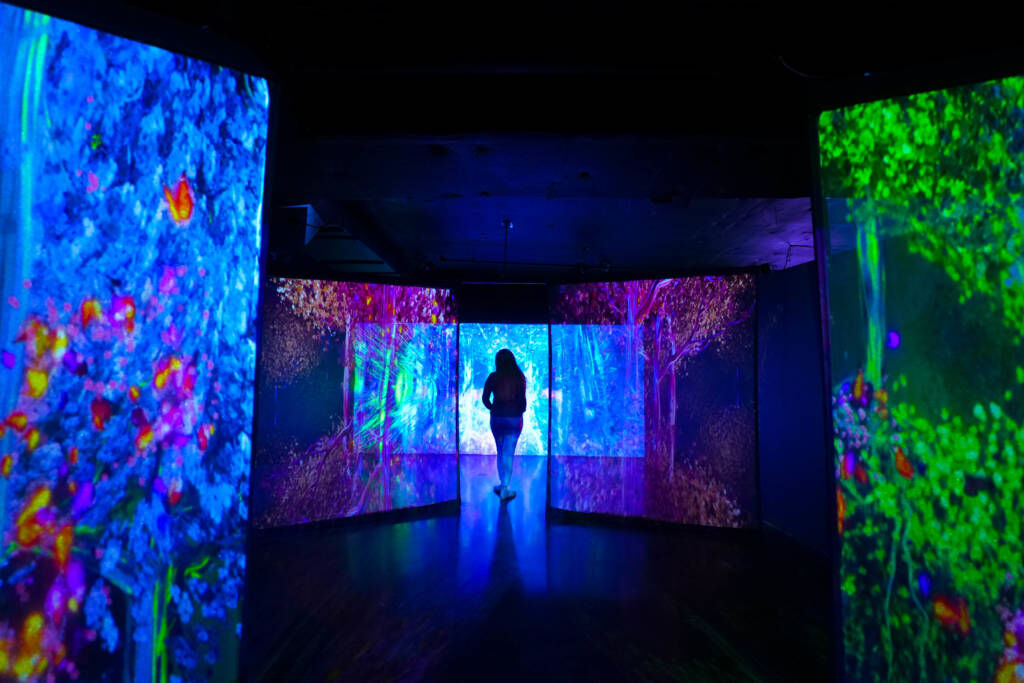 How do you feel technology is enhancing our understanding and awareness of the beauty of nature around us?
It is through science that our understanding and awareness of nature grows. Think of fractals as the recent example from our exhibits. Technology cannot be used interchangeably with science. Rather, technology is a tool of science — allowing for both the furthering of the field as well as greater opportunity to explain and express what we learn. Technology deepens our ability to both understand and teach.
"Life of A Neuron" is another perfect example. The field of neurology relied heavily on technology to advance its understanding of the brain's functioning, and simultaneously, we employed advanced technology to update the way we can express that language. Our "hero neuron" was the first 3-D reconstructed prefrontal cortex neuron with the Society for Neuroscience. The public had an incredible living exhibition as a teaching tool. [Life of a Neuron will open in NYC – May 14, 2022]
The integral relationship between science and technology is the reason that ARTECHOUSE is the home of art, technology, AND science — rather than just art and technology.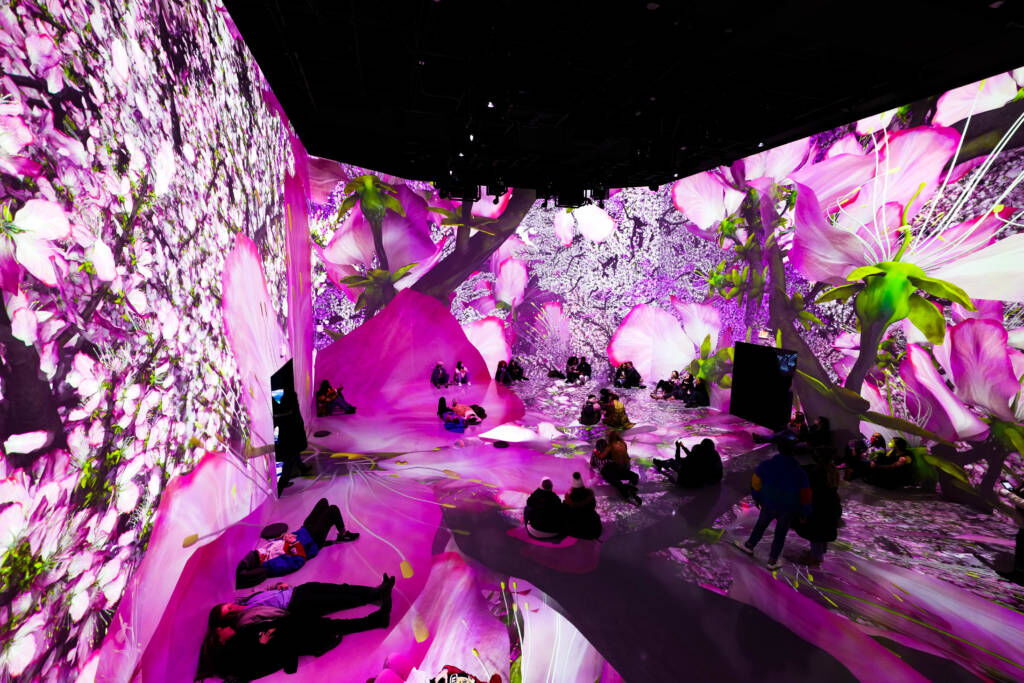 In "PIXELBLOOM," how was audio considered for the visual landscape?
The composed music was paired with the immersion gallery visuals for a test round — and the overall feeling was that eight minutes of composed music went by in a flash. Consider how time flies when you can lose yourself in a subject. The first impression in the galleries will carry well, but we've built a "thrill ride" that should keep everyone enraptured for many rounds without even considering how long they have been watching.
The viewing experience will be fast-paced, but an aesthetically pleasing run that one doesn't wish to depart. Overall, the immersion gallery visit will be a comfortable, enjoyable feast for the eyes and ears. And then, the auxiliary installations will be the "cherry on top" for the thrill ride of the immersion gallery.