NOVEMBER 1 2020
AR Drinks To-Go are here with a Classic Blue inspired twist at ARTECHOUSE DC!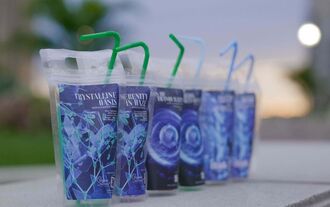 Visitors and passersby can experience our Pantone 19-4052 Classic Blue inspired installations through taste and augmented reality!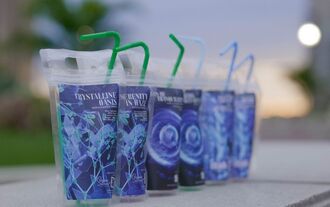 With the opening of our new surreal, immersive installation series Submerge by ARTECHOUSE, we have also launched our AR Drinks To-Go program with a variety of flavors from local bars and restaurants.
Like our installations, all drinks are inspired by Pantone Color of the Year 2020 Classic Blue and its dependable, calming and inspirational qualities.
Each beverage will be paired with an original AR activation developed by our in-house creative team, which you can experience with the ARTECHOUSE extended reality (XR) mobile app.
Enjoy specially themed AR Drinks in to-go pouches every weekend, Friday – Sunday, through February 28th, 2021 at ARTECHOUSE DC while supplies last.
We hope to see you soon for an immersive, interactive and multi-sensory experience of Classic Blue!
The Menu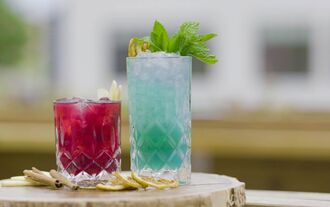 Alcoholic Drinks
Non-Alcoholic Drinks
As a small local business, we understand the importance of community and collaboration, and we're excited to spotlight the creative global flavors of D.C.'s food and beverage community through this AR To-Go program.
"Each of them brought their unique point of view and voice to this, and we truly feel it amplifies the experience. Having our small business community feel supported was a priority for this collaboration."

Tati Pashtukova, co-founder of ARTECHOUSE
The Inspiration
On view now at ARTECHOUSE DC is Crystalline, an immersive and interactive installation inspired by Classic Blue's grounding properties and connection with earthly elements like crystals.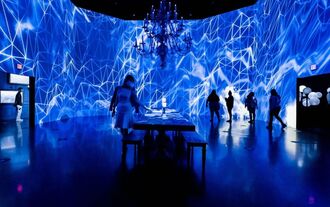 The experience takes guests on a journey that is both adventurous and contemplative— an exploration through an illusory, blue-hued castle.
The installation offer us the opportunity to find balance, a feeling that often seems out of reach during these turbulent times. Surreal yet familiar, these installations offer guests a refuge from the everyday and we hope our AR Drinks will similarly soothe your senses.
The Technology – The ARTECHOUSE XR App
Our AR to-Go Drinks allow you to take the interactive and innovative experience of Crystalline beyond our art space and into the world.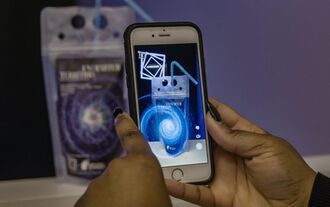 Simply download the ARTECHOUSE extended reality (XR) mobile app, hover your camera over your drink's AR activation marker and engage with the relaxing power of Classic Blue as it comes alive before your eyes.
Visit Us to Escape the Everyday!
Our AR Drinks To-Go are available Friday – Sunday through the duration of Crystalline on February 28th, 2021 at ARTECHOUSE DC.
All drinks will be available on a first-come, first-served basis. For hours of operation and tickets, please visit www.artechouse.com.
We hope to see you and your mask soon!